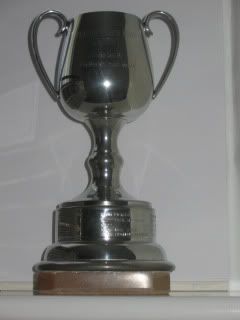 When the Society's Chairman, Howard Lunn, died in 1999 the Society decided to institute an award for the best article, each year, in his memory. The article must have been published in the quarterley journal of the society, the Postal Order News. The winner holds the trophy for one year and also receives an award. Each year the winner is announced at the October AGM together with all the results of the members' votes.


PAST WINNERS OF THE TROPHY


1999/0 Indian Postal Notes by Richard Solly
2000/1 The Hummel Collection by Jack Harwood
2001/2 No award.
2002/3 Cyphers for Postal Orders by Michael Brill
2003/4 Money Orders and Postal Orders in Ireland by Hugh McGoldrick
2004/5 Developments in Ghana by Jack Harwood
2005/6 Post-Independence Indian Postal Notes by Richard Solly
2006/7 QEII Automated Postal Orders by Vince Patel
2007/8 Machine Orders at Remnant St. by Richard Solly
2008/9 Australian Postal Orders by Mal Tedds
2009/10 Legal Tender Postal Orders by Gary Oddie
2010/11 Poundage Printing for Machine Orders by Gary Oddie
2011/12 Counterfeit Postal Order by Gary Oddie
2012/13 First Analysis of 1/- BPOs by Gary Oddie
2013/14 Lady Willoughby de Broke by Gary Oddie
2014/15 Potpourri of Overprints by John Gledhill

Over the years winners have received one of the following :- an inkstand, a barometer, a perpetual calendar, a boxed magnifier, a pewter tankard, a clock, a leather note stand and a shopping voucher.

This year (2015) the members who voted were entered in a draw and the winner Michael Brill received a prize.
Back to Home Page